eventflo - successfully increases the buzz at Life Science events
---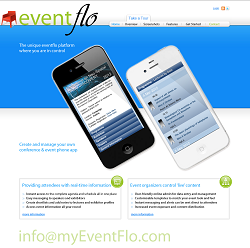 We would like to introduce our unique eventflo event app publication platform, where you are in control of both the content and the budget!
Engage your attendees and drive traffic to your exhibitors.
Through a simple website based interface you can enter all the content you want to include in your conference phone app; from lecture schedules and speaker profiles to exhibitor details and general venue information.
* Preview your phone app instantly
* iphone and webapp formats
* Update speakers, lectures and info in real-time
* Integrate info directly in to your website
* Attendees can create lecture shortlists
* Attendees can add notes to lecture and exhibitor profiles
* Integrate info directly in to your website
* Includes QR code creation and clickable floor plans
To learn more about eventflo please contact us or go to www.myeventflo.com
Posted: 13-Nov-2012 Views of this Press Release:
624
---
For more information, contact us at: