New Origami TubeRack from TENAK
---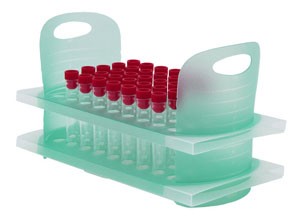 We would like to introduce our new developed, inexpensive and flexible rack.
Once again, we have used the origami principle in the design of this new series of test tube racks. The racks are delivered flat packed in packages of 5, which reduces the freight cost and the storage space needed in the laboratory.
The Origami TubeRack is available in 3 sizes. Together with the unique height adjusting system this rack is one of the most flexible tube racks on the market and it can be used with almost any tube or vial available. Due to the design and the choice of material the price has been kept as low as 1/5 compared to similar tube racks.
For more information please contact our sales team on info@tenak.com or call us at +45 88 20 20 70
To learn more please click here
Best Regards
TENAK A/S
Posted: 29-May-2012 Views of this Press Release:
221
---
For more information, contact us at: