Press Release from BioTX Automation
Save Time Reformatting Microplates 75% Less with WellAware Pipetting Guide
---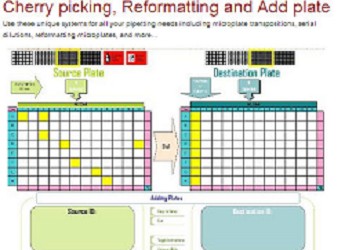 Reformatting or cherry picking between microplates is complex and time-consuming. Using a WellAware GPS navigation system to guide your pipetting process can save up to 75% on time and cut your errors to nothing.

"We purchased two of BioTX's WellAware units to simplify and improve a highly repetitive and labor intensive cherry-picking process in our lab. With its custom LIMS data importer, barcode scanning and voice feedback, what once took two people two hours now takes one person about twenty minutes."

The light and voice automated system cuts time and errors and reduces hand or arm fatigue. WellAware supports all microplate pipetting guide applications; ask us to help you.


See the WellAware at the Symposium for Human Identification and at Am Society Human Genetics (ASHG). Or contact us for a trial in your lab for your pipetting needs.

Click **HERE** to view the WellAware video or click on more information below to see full full description.


Posted: 24-Sep-2006 Views of this Press Release: 1731
---
For more information, contact us at: