Press Release from BioTX Automation
Speed Up HLA DNA Typing with WellAware GPS Pipetting Systems
---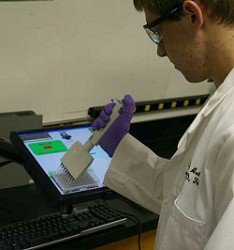 The WellAware microplate pipetting guide system is ideal for your PCR Setup and Normalization protocols in HLA DNA Typing and other molecular research and molecular diagnostics. Automate hand pipetting for Sample Sorting, pre-PCR and post-PCR with sample tracking and electronic SOP. WellAware hand automation provides lab managers with an error-free and fast pipetting solution.

"Our lab has been using the Tablet PC version of WellAware since September of 2005 to reduce pipetting errors and to speed our pipetting. The new software we received in April is much easier to use and has reduced our PCR setup and pipetting time in half."

The system not only cuts time and errors, it reduces hand and arm fatigue. WellAware supports all microplate pipetting guide applications; ask us to help you.

Click **HERE** to view the WellAware video or click on more information below to see full full description.


Posted: 27-Jan-2007 Views of this Press Release: 1656
---
For more information, contact us at: